About six years ago I had heard from some in my social circle from time to time predict that movie theaters would become extinct except for a handful of theaters scattered around some cities for festivals or nostalgic screenings. To then-rising ticket costs, food, and parking would be no match for the numbers and ease of putting together a decent living room home theater, equipped with digital surround sound systems and flat screen TVs.
The comparison didn't really hit home for me and instead was a reminder of a director of photography who in small talk at a party in 1991 predicted the end of editing because interactive DVD movies would allow viewers to become their own "picture editors."
If everyone above has cocooned in their homes since then, in front of their mid-2000's plasma HDTV flat screen, they've missed a generation of amazing theatrical exhibition advancements.
HDR
Of all the post-production and exhibition methods proposed in the past few years, High Dynamic Range (HDR) has endured and continues to grow. Dolby has been at the forefront with it's Dolby Vision technology impressively paired with Dolby Atmos theatrical sound systems for the Dolby Cinema experience.
Very simply, HDR means the display or projection of deeper blacks, brighter whites, and much more dynamic color. All of which become very important in bigger theaters with a large throw distance between the projector and its massive screen size. There are now several HDR Dolby Cinema installations in AMC theaters across the US.
Meanwhile, research continues to find ways of minimizing reflections from surfaces in the theater and ambient light in the theatrical environment to give viewers the most maximized contrast richness experience.
Barco Escape
The Barco Escape immersive format has also continued to move forward. This viewing experience surrounds the theater with screens on three sides, left, center, right, which depending on where the viewer is seated, either fills the peripheral vision or creates a panoramic image.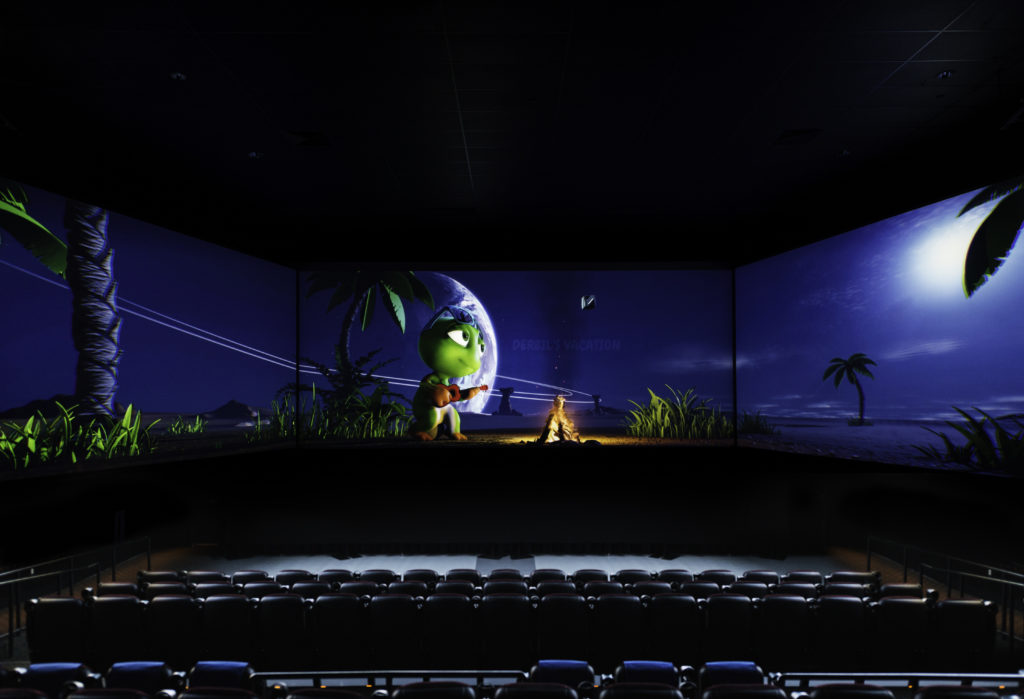 Although not as widely adopted as Dolby Cinema theaters, several installations are now in place in US theaters, which were showcased in the summer of 2016 with the release of Star Trek Beyond in the Barco Escape format. The production company Minds Eye Entertainment is currently finishing a slate of sci-fi, action and thriller films destined for Barco Escape screens.